If you've just gotten engaged, congratulations! Once the happy glow has subsided, you'll have to start planning your wedding. Here's a helpful guide.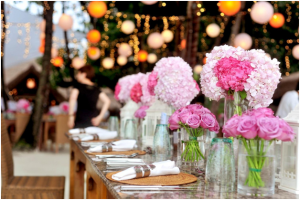 Budget

The first thing to do is to agree on a budget. According to The Independent, the average cost of a wedding in the UK is now £27,161.
It doesn't have to cost that much; agree on a sum that both of you are happy with and one that you can afford without breaking the bank.
Venue

Decide on what type of venue you want, then make a shortlist to go and view them so you can make an informed decision.
If you're looking for a Gloucester Hotel Wedding Venue, you'll find plenty of great venues, such as hatton-court.co.uk/gloucester-cotswolds-weddings
Guests

How many guests you invite depends on the size of your budget and chosen venue. Agree on a set number, and be sure to stick to it.
Food

What you're going to eat and when needs to be decided on early. Will you have a buffet, a sit-down three-course meal, or something else?
Invitations

Self-created or made by a specialist firm, they still do the same thing. Just make sure to get them out early enough.
Gifts
This can be with a local firm or an online company. Remember to include something to suit all budgets.
Bridal party

Choosing your best man, bridesmaids, and ushers can be tricky because you don't want to offend anyone by leaving them out. Try to pick people from each side of the family.
Table

Who's sitting where can cause arguments, so be prepared to compromise.
Clothes

Picking outfits for everyone should be a pleasure, not a chore. Choose in good time so alterations can be made, and try to ensure everyone suits what you choose!
Smile!
Photographs and videos are an important consideration as they make your memories of the day concrete.
Flowers

If you're having flowers, you need to decide which ones you like and where you want them to be placed. Blooming lovely!
Insurance

Wedding insurance is a good idea if you are spending a lot of money. It could save you heartbreak if something has to be canceled.
Honeymoon

Pick somewhere you both love, and get ready to enjoy some relaxation after all that hard work.