Both new car dealerships and used car traders are facing a challenging time in the market in times of financial uncertainty.
The Society of Motor Manufacturers and Traders' latest figures on new car sales show little sign of the market staging a recovery, so how can dealerships adapt to maintain sales?
If you are selling used cars, it is vital that you constantly address your inventory to meet customer demand. One way to do this, and improve sales, is to offer a good trade-in deal for their current vehicle – this applies to new car sales too. By taking advantage of local car auctions to sell on unsold used vehicles, you will keep stock fresh and attractive to buyers.
Refreshed
With this kind of turnover, it is vital that you keep your motor trade insurance up to date.
You will also want to promote this refreshed stock via your website and by ensuring customers are kept up to date on changes which may meet their needs and encourage footfall at your dealership. Even if you specialize in new car sales, given the fall in sales in this market you can develop a healthy used car business alongside your principal activity.
Develop your website and ensure that you have an adequate mobile facility. Customers are increasingly browsing on mobile devices, and this is very different from the desktop experience. Ensure that your mobile service is simple to navigate and uncluttered. Potential customers can easily be put off if they are frustrated when searching. This, of course, also applies to your desktop browsing facility.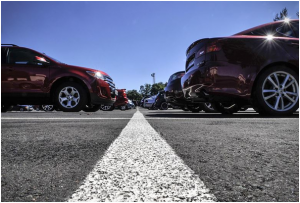 Make your dealership unique by offering add-ons such as warranty and service offers. This means you are not simply competing on price and are offering valuable experience for clients. Apart from legally required insurance, dealers often ask, why do I need motor trade insurance specially tailored for my business? By offering unique services you will need to ensure you are covered for any interruption to your business from disasters, accidents or website failure.
Advertise
It is often the case that many car dealers advertise in a similar fashion, and customers naturally assume that there is nothing to choose between them apart from price. By giving clients a compelling reason to choose your dealership, you will mark yourself out from the crowd.